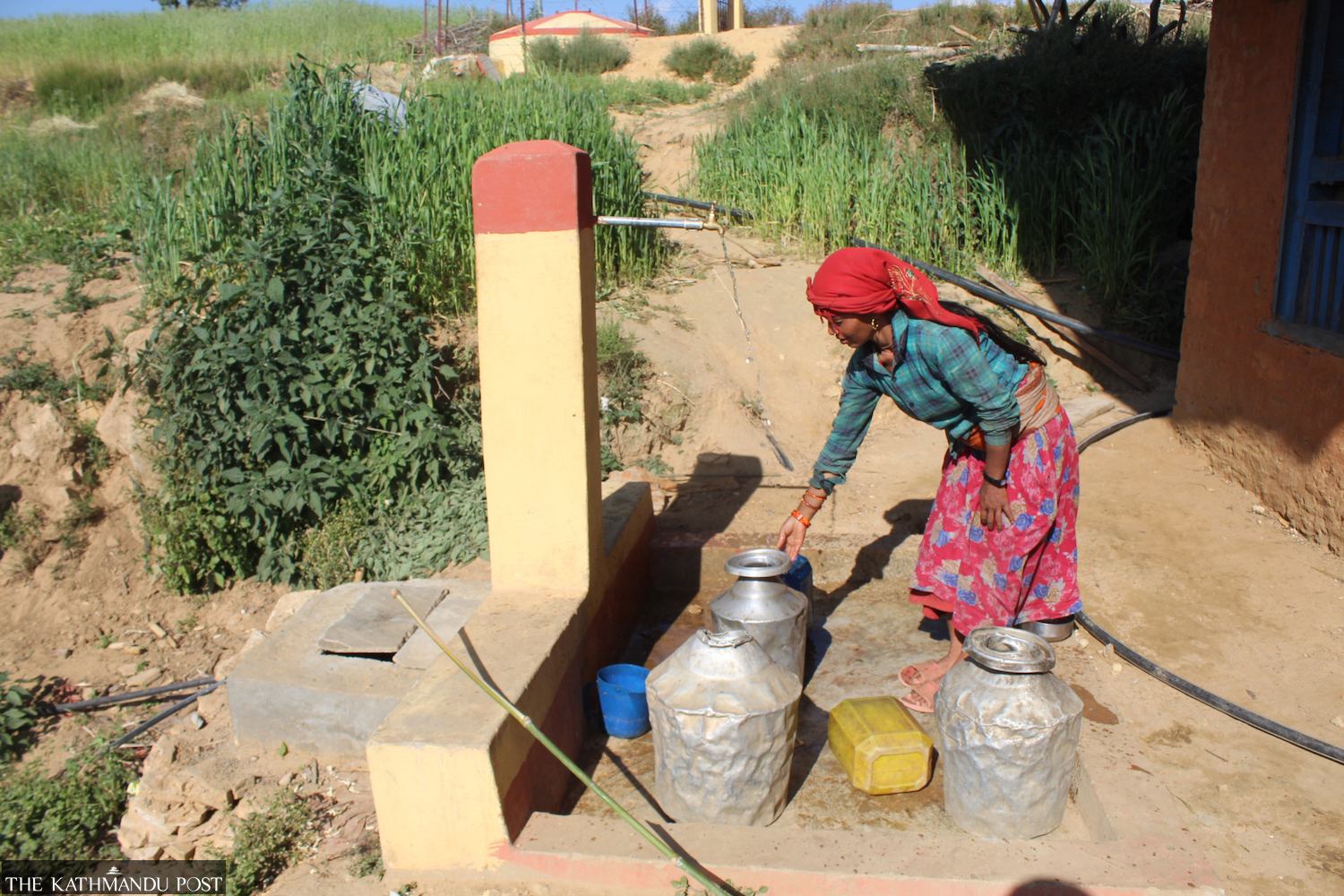 Upwelling projects alleviate Karnali water crisis
Until a few months ago, Rima Oli, a resident of the Baraneti settlement in the rural municipality of Tribeni-10, had to wake up in the early hours of the morning every day to fetch clean water. She had to walk about half an hour to reach Padherikhola, a natural water source below the settlement, and wait for hours to fill a jar with water.
Oli's difficulties are now a thing of the past.
"We had to queue for hours just to fill a gagri (traditional water jug) with water. The villagers are finally relieved of the problem as the local unit has started providing water to every household," Oli said.
As many as 110 households in Baraneti suffered from drinking water shortage until the completion of the Simtarekhola rural solar drinking water project a few months ago.
"Villagers, mostly women, had to wake up around 2 a.m. and rush to Padherikhola to bring drinking water," said local resident Karna Bahadur Khadka.
According to him, the scarcity of water has made life difficult not only for adults but also for children. "Children also had to help carry water from local sources to their homes. So most of the time they missed school and they never had time to study at home," Khadka said.
The villagers are now satisfied because running water is provided to each household. Water from Simtarikhola is extracted using a solar power plant and distributed to 110 houses in the settlements of Baraneti, Rupari, Chaukhe, Palpalek, Damar, Totke and Sanchaur.
"Previously, there was no alternative to filling water jars in Padherikhola. Today, Simtarikhola water is extracted using modern technology and distributed to the villagers. The completion of the development project has been a boon for us," said Tike Oli, another villager.
The villagers have even started growing green vegetables in their vegetable patch using running water. "Today, we no longer care about water. We have enough water for household chores and sanitation," said Tikaram Oli, secretary of the drinking water consumer committee.
According to him, the water lifting project was completed at a cost of Rs 15 million, 35% of which was covered by labor contribution from consumers. "Consumers used their own money to build a tap and install a pipeline," Tikaram said.
In Jumla, another hilly district of Karnali, an ambitious water lifting project is being constructed to supply water to 9,100 households in 19 wards in three local units in the district.
Construction of the Dhailigad drinking water project has started with an estimated cost of Rs 1.36 billion. Federal Water Supply Minister Umakanta Chaudhary laid the foundation stone for the drinking water project on Saturday.
The project aims to extract water from the Dhailigad River and distribute it to residents of Wards 1-10 of Chandannath Municipality, Wards 3-5 of Guthichaur Rural Municipality and Wards 1-6 of Rural Municipality by Tatopani. Chandannath Municipality and Guthichaur Rural Municipality will each provide Rs 5 million to the project while Tatopani Rural Municipality will provide Rs 4.6 million to the project. The federal government will manage the remainder of the amount required to complete the project within two years.
(With contribution from LP Devkota in Jumla)