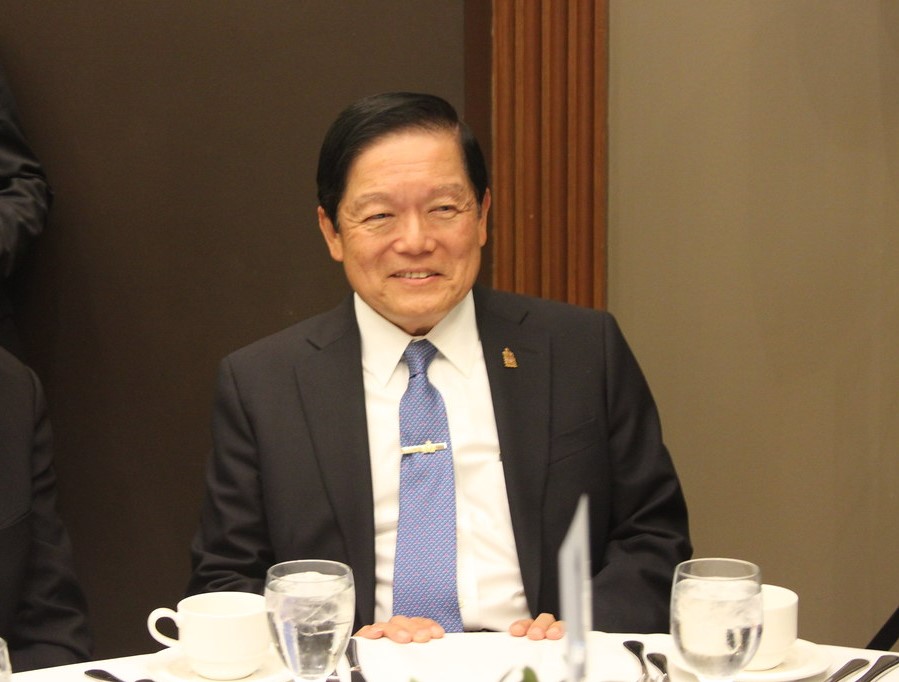 Senator promoting Patrick Brown's Conservative leadership bid in Chinese community accuses competition of 'white supremacy'
Brown is backed by Senator Victor Oh and groups taking pro-Beijing positions within Canada's Chinese community
In a message recorded in Chinese asking voters to support Brampton Mayor Patrick Brown's candidacy for Conservative Party leadership, Conservative Senator Victor Oh accuses Brown's competition of racial discrimination and promoting white supremacy.
"When we see leadership candidates of the Conservative Party of Canada, one of the three major political parties in Canada, discriminating against people of color in their speeches while promoting extreme white supremacy, as Canadian citizens , and for the sake of our future generations, we have a duty to join this Party and vote for a candidate who is respectful of people of color and new immigrants," Oh said in a video posted to YouTube on May 27, without specifying which racist incidents he was referring to. at.
Oh's video was associated with an event he co-hosted in the Toronto-area Chinese community on May 26 to promote Brown's leadership bid.
According According to reports in local Chinese media, the event was co-hosted by the Confederation of Chinese-Canadian Organizations of Toronto (CTCCO), an organization that takes pro-Beijing positions in the Chinese community, with representatives from many other groups that also take pro-Beijing positions. positions present.
CTCCO President Guo Ning Weng echoed Oh's comments in a speech at the event, saying one of the reasons for supporting Brown is his stance against racial discrimination, according to Chinese Canadian Media News.
During the 2019 pro-democracy protests in Hong Kong that led to a crackdown by authorities in Beijing, CTCCO was among groups organizing events in Toronto to speak out against protesters in Hong Kong. The group also supported the Chinese Communist Party's national security law imposed on Hong Kong, which has been denounced by many democratic countries, including Canada as undermining the autonomy of Hong Kong.
Other organizations with representatives at the event hold similar pro-Beijing positions, including the Chinese Professionals Association of Canada (CPAC). CPAC was one of the selected recipients of the "Overseas Chinese Organization" awards at a ceremony at the Great Hall of the People in Beijing attended by Chinese leader Xi Jinping in 2014, hosted by the Chinese Affairs Office of China. 'overseas. Earlier this year, a Federal Court judge claimed that the Office of Overseas Chinese Affairs was involved in acts of espionage that go against Canada's interests.
Senator Oh has in the past drawn attention for his frequent trips to China. The Senate Ethics Counselor said in 2020, Oh broke conflict of interest rules by accepting a free trip to China in 2017. He has also taken other free trips to China sponsored by the Chinese regime and pro-Beijing business groups in in previous years, according to the Globe and Mail.
In 2016, when fellow conservative Senator Thanh Hai Ngo introduced a motion urging Beijing to end its hostilities in the South China Sea, Oh spoke against the motion. He is also a usual guest of honor at events with the Chinese ambassador or consul senior officials in Canada.
Earlier this year, Oh apologized to former Tory MP Kenny Chiu for accusing him of lying about falling prey to a disinformation campaign which Chiu says cost him his seat in the 2021 federal election.
During the previous session of parliament, Chiu introduced a private member's bill to require those working on behalf of foreign entities to register as foreign agents to increase transparency. But the bill was twisted to members of the Chinese community to mislead them into believing it was against their interests, Chiu said.
The Epoch Times reached out to Oh for comment but did not hear back at the time of publication.
Brown responded to an email seeking comment by requesting a link to Oh's video, but did not respond further at press time after receiving the link.
Brown has taken a noticeably softer stance on China in the leadership campaign compared to other candidates.
During the candidates' debate in French on May 25, Brown said that while it is important to defend human rights, it is also crucial to support trade vital to Canada's interests, such as sending gas liquefied natural gas in China as a way "to help China fight climate change."
"And it is a way to improve relations with China which have deteriorated under [former] Prime Minister [Stephen] Harper," he said.
Harper refused to go to the Beijing Olympics in 2008, which was attended by many world leaders. His tenure was marked as an era of cooler relations with the Chinese regime compared to previous liberal governments. After Justin Trudeau's Liberals won the 2015 election, Chinese Premier Li Keqiang said the two countries were entering a "golden era".
Accusations of racism
Brown and his campaign have repeatedly tried to link fellow leadership candidate and Conservative MP Pierre Poilievre to racism.
Brown share a May 15 Twitter video of Pat King, one of the protesters who traveled to Ottawa on the truck convoy, in which King talks about a plan to "depopulate the Anglo-Saxon race."
"There is an endgame, it's called the depopulation of the Caucasian, or Anglo-Saxon race, and that's the goal, to depopulate the Anglo-Saxon race because they are the ones who have the strongest bloodlines ", says King in the video.
Referring to the video, Brown said: "This is Pat King, a convoy leader [Pierre Poilievre] supported, spreading the dangerous white supremacist "White Replacement" conspiracy theory that allegedly featured in the Buffalo shooter's manifesto.
Convoy organizers distanced themselves from King, saying he was not one of the organizers of the Freedom Convoy, the main group that organized the truckers' protest against COVID-19 mandates in Ottawa in late January and february.
A few days later, on May 18, Conservative MP Michelle Rempel Garner, Brown's leadership campaign co-chair, share a screenshot of an email on Twitter in which someone claiming to be a member of the Conservative Party says "I believe in Nazism" and signs "I support Pierre Polièvre!"
Poilievre responded to these incidents by saying he denounces all racism.
The Conservative Party later said the person who sent the email had resigned from their party membership after an investigation was opened into the incident.
Andrew Chen and Isaac Teo contributed to this report.