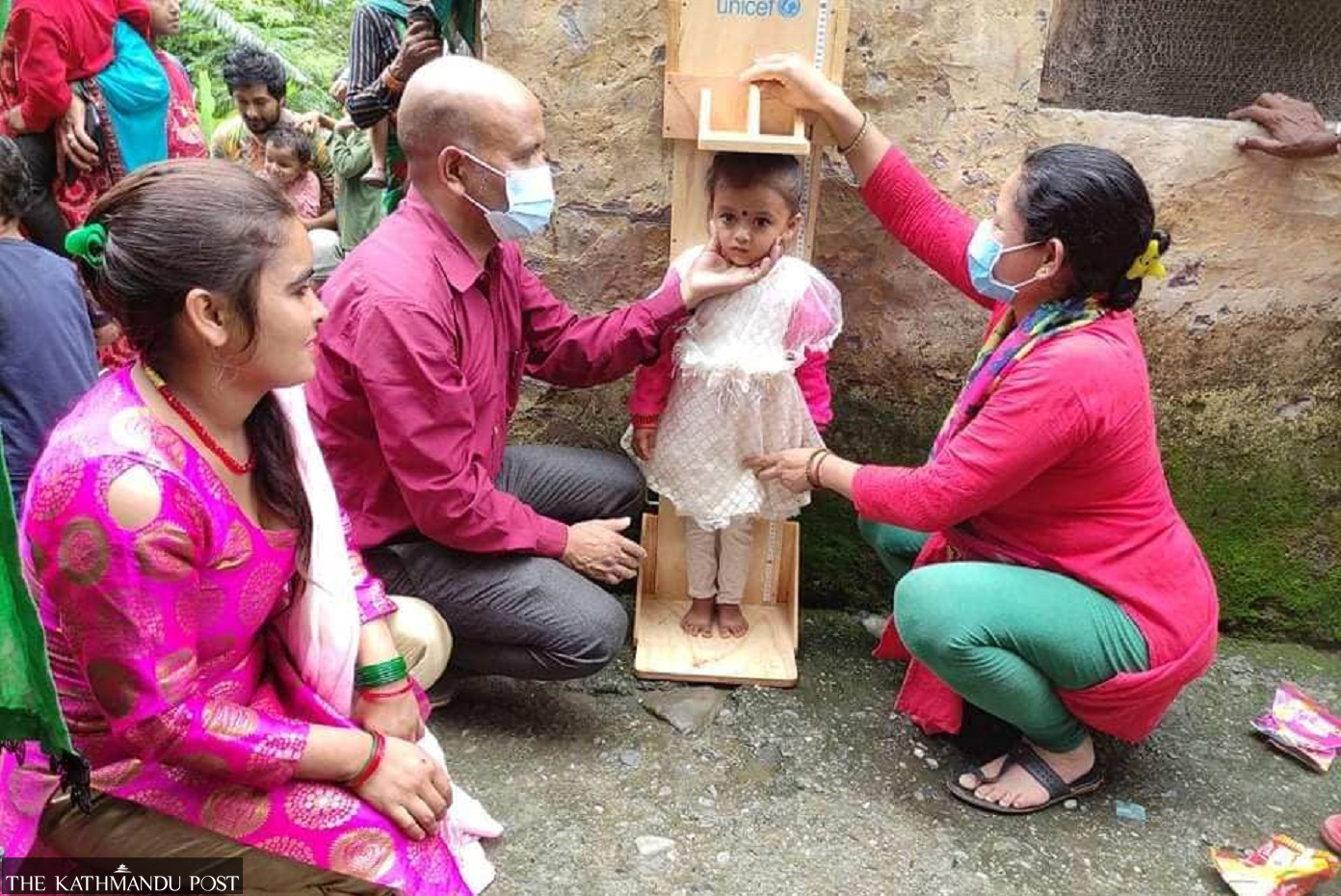 Malnutrition a serious health crisis in Darchula
Malnutrition among children is a serious health crisis in Darchula, a mountainous district of Sudurpaschim province.
As many as 537 children aged between 6 months and 5 years were found malnourished in the district, according to the Darchula district health office. Among them, 168 children suffer from severe acute malnutrition.
The district health office in the last fiscal year 2021-2022 started a program to know the state of malnutrition in the district. Health workers reached all 61 wards in nine local units and carried out health checks of children under five.
"More than 500 of the 5,205 children who underwent health checks in the district were found to be malnourished. Among them, 168 suffered from severe malnutrition," said Birendra Prasad Bhatta, immunization supervisor at the district health office.
He said there were 35 severely malnourished children each in Shailyashikhar Municipality, Lekam Rural Municipality and Naugadh Rural Municipality of Darchula. Similarly, 20 severely malnourished children were found in Byas Rural Municipality, 15 in Marma Rural Municipality, 10 in Malikarjun Rural Municipality and four in Duhu Rural Municipality.
According to the district health office, there are a total of 13,048 children between six months and five years old in Darchula.
Health workers say that food insecurity and lack of awareness among caregivers about the nutritious foods needed for a child's growth are the main causes of malnutrition in children. Darchula is often plagued by food insecurity as food grown by local farmers barely lasts six months.
"Lack of awareness regarding nutritious foods for children, teenage pregnancies and shortage of nutritious foods are major causes for the high rate of malnutrition in the district," Bhatta said.
The district health office provided fortified foods to 537 malnourished children for three months. According to Khagendra Karki, information officer at the health office, 417 malnourished children have been treated while others are still suffering from the disease.
"Four severely malnourished children were also found suffering from other illnesses. They were admitted to hospital for treatment," Karki said. According to him, the district health office has launched several programs through each local unit to eradicate malnutrition.
The 2016 Nepal Demographic and Health Survey shows that 36% of children under five suffer from chronic malnutrition (stunting or low height-to-weight ratio). The government aims to reduce the stunting rate from the current 36% to 24% by 2025, and to 14% by 2030, in order to achieve the Sustainable Development Goals.
Malnutrition is a serious health crisis in Sudurpaschim province. The 2019 Multiple Indicator Survey showed that the prevalence of wasting among children in the province stood at 14.1%.